Have you heard of
CSN Stores
? They are a large online retailer with over 200 online stores.
They carry housewares, baby gear, bikes, toys, and much more.
CSN Stores
is giving away a $60 gift card to one whatever Dee-Dee wants, she's gonna get it reader. You can put the gift card toward a bigger purchase or buy something smaller.
Here are some things I want from CSN Stores.
1)
Bliss Living duvet set
2) A
ll-Clad stainless cookware set

3)
Under sink storage

4)
Le Creuset cook set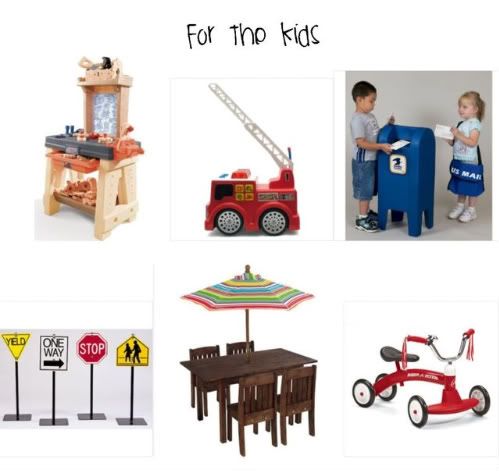 1)
Workshop play center

2)
Fire engine
3)
Mailbox play set

4)
Play traffic signs

5)
kids table
6)
Radio Flyer scoot about
1)
Picnic basket

2)
Cuisinart ice cream machine
3)
Bike trailer
4)
Croquet set
CSN Stores
is giving away a $60 gift card to one lucky winner!
What do you want from CSN Stores?
How to enter
1 entry for commenting on this post
1 entry for becoming a follower of this blog on Google Friend Connect
1 entry for
following me on twitter
2 entries if you tweet about this giveaway including a link
2 entries for posting about this giveaway on your blog
Leave a comment for each entry.
Giveaway ends Sunday,July 4th at midnight
Winner will be announced Monday, July 5th
Winner will be chosen by Random.org