HELLO EVERYONE!!
I am so excited to be here today to guest post for Dianna!! Love her blog and this Terrific Tuesdays is such a great series!!
My name is Michelle and I blog over at
Delicate Construction
!! I am a wife to a fantastic hubby and we have been married for three years but together for almost nine! We have a beautiful two year old daughter Avery and I are also full time caregivers to a young gentleman with Autism who lives with us named Scotty! Needless to say I am pretty busy but I love adding handmade touches to anything I can and sharing them with my readers!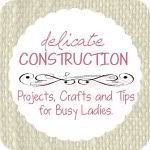 Each Monday I host a
Made by Little Hands
linky party for fellow bloggers to share what they have been doing with their children each week and I love getting to see all of the great ideas! I also share something I have done with my daughter as well!
I am lucky to be an 18 month old teacher at my daughter's preschool, which happens to be the class that she is in! So I am never at a loss for something to share!
This last Sunday was our schools huge art show and silent auction and being the creative mama I am I was very excited to share all the things my class had been working on! Also, it never fails that I get some of my best ideas at the last minute and that is when I came up with these fun ribbon baskets I am going to share with you today!!
Here is what you need:
A whole lot of glue
Ribbon scraps
Plastic disposable cup (I got the ones I used at the dollar store, 12 in a pack)
Plastic wrap
Newspaper or other material to cover your work surface.
First I covered the plastic cup in plastic wrap, this will all make it easier once everything is dried to take it all apart.
Photo after the first couple of hours.
Once the cup is out it is easy to peel the plastic wrap off the inside of your ribbon basket.
Really I could go on, cupcake liners (after they are baked of course), hung on a mobile, holding hair ties in the bathroom... you get the point!
Thanks so much Dianna for having me here today!! I hope you all come visit me soon at Delicate Construction and if you become a new follower, leave a comment and let me know so that I can follow you back!!
If you would like to guest post in the Terrific Tuesdays series email me.